VS AMERICA QUICKSHIP PROGRAM
When you need furniture fast, turn to VS QuickShip. Through this program in-stock products ship from North Carolina or Texas in 10 business days or less. The specific products showcased on this page are all included. QuickShip is based on a first-come, first-served basis; please confirm available quantities before placing an order.
Download the QuickShip brochure
QUICKSHIP PRODUCTS
For more product details and options available, download the QuickShip brochure at the link above or contact us.
PantoSwing-LuPo
The PantoSwing's dynamic seat encourages regular changes in sitting positions, which has been shown to increase the attention of students. With a frame made of bent, powder-coated steel tubing and a seat shell made of double-walled textured polypropylene, this chair takes durability to a new level.
PantoMove-LuPo
The PantoMove chair is height-adjustable, making it easy to quickly adjust the seat to individual requirements. The patented 3D rocking mechanism offers even greater dynamic sitting by allowing the seat area to react to every change of weight and leans gently forward, backward, or sideways.
Compass-LuPo
The Compass-LuPo chair on soft castors makes mobility easy and is perfect for hard floors. The frame is made of bent and welded powder-coated round steel tubing, and the seat shell is made of double-walled polypropylene for comfortable sitting with an air-cushion effect.
Hokki
The Hokki stool is a true original, with an iconic wobble that creates added motion and balance, making it easy for children and adults of all ages to be more engaged and focused. The floor safe slip-resistant rubber base features a convex shape, allowing for a natural, 360-degree range of motion.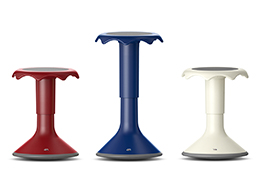 Hokki+
The Hokki+ is the height-adjustable Hokki, available with a height adjustment range of 15" to 19 3/4" or 19 3/4" to 26 3/4". The Hokki+ has a gas spring height adjustment with anti-twist protector, resulting in overall stability and seating comfort.
Solo
The Solo stool is available in three fixed sitting heights of 18 1/8", 20 1/8", and 24", and has 4 foot rings positioned at different heights for use as footrests. These foot rings make the Solo stool easy to be used by students of all heights. This stool can be stacked up to 5 at a time.
LuPoStool
The LuPoStool has a welded steel tube frame with a U-shaped skid. The seat shell is made of double-walled polypropylene for comfortable sitting with an air-cushion effect. The stool can be stored on tabletops and is also stackable. The taller two heights come with a footrest.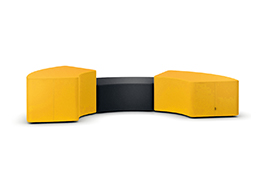 Shift+ Landscape
With the Shift+ Landscape seating elements, learning environments and differentiated zones within the classroom can be simply and quickly formed. The 60° seating element is available for QuickShip in two different heights. The Stamskin fabric cover is extremely durable and easy to clean.
Shift+ ThumbPrint
The ThumbPrint is an easy to move, lightweight desk with flexible use positions. The convex- or concave-shaped tabletop sides ensure the tables can be combined in a variety of ways - into circles, rows, groups, and more. ThumbPrint tables increase classroom combination possibilities and open up configurations for a truly agile design.
LiteTable-ST
The LiteTable-ST offers the ultimate flexibility for multi-use spaces and agile classrooms. It has a frame made from welded steel, providing superior strength and longevity. Four heights are available through the QuickShip Program so each student can find their perfect fit. This table is stackable up to 8 and has uniquely spaced legs so the tables can be lined up against each other.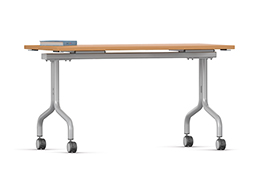 FlipTable-RU
Roll it around. Link them together. Flip it down. Nest it away. The FlipTable-RU has exceptional flexibility, functionality, and durability for classrooms to meeting rooms and everything in between. A two-lever safety mechanism ensures the table is never flipped by accident, and the top locks when horizontal or flipped for added safety.
Shift+ FusionFlip
This easily combined freeform table can be used for the most diverse group sizes. The tables can be pushed together as needed to create spaces for larger groups. The foldable top allows the tables to be nested together to save space when not in use. Four castors provide for problem-free mobility and the tables are light enough to be moved by students of all ages.
Shift+ Interact
The Interact has a curved top that fits all other Shift+ product curves, so it can nest with other desks and tables in an unlimited set of configurations. The height can be quickly adjusted from 28" to 45 1/4", and the castors make it easy to move around the room. A closed book box under the table offers convenient storage on the go.
Shift+ Transfer
The Transfer mobile shelving elements are available through the QuickShip Program in one height and two shapes - 60° curved and straight. They can be formed into various combinations, as well as used with the seating elements to create separate seating areas. All Transfer units have bases made from welded steel, providing superior strength and longevity.
Shift+ Transfer Storage
The Transfer mobile storage cabinets are equipped with strong connecting magnets, allowing it to be combined with any other Shift+ Transfer cabinets to create a variety of shapes and group seating areas. Any configuration of 3" or 6" bins can be used in Transfer units to optimize storage for whatever the space requires.
Sample Classroom Layouts
CLASSROOM 1: SEMINAR
Sample Classroom Layouts
CLASSROOM 2A: SMALL GROUP WORK
Sample Classroom Layouts
CLASSROOM 2B: SOCRATIC
Sample Classroom Layouts
CLASSROOM 3A: SMALL GROUP WORK
Sample Classroom Layouts
CLASSROOM 3B: LECTURE
Sample Classroom Layouts
CLASSROOM 4A: DIFFERENTIATED ZONES
Sample Classroom Layouts
CLASSROOM 4B: COLLABORATIVE